Teddy Hall Relays 2023 
Congratulations to everyone for braving the arctic conditions on one of the coldest Teddy Hall Relays for a number of years - '23.
Results for Teddy Hall Relays 2023 are now on Tempo Events: 
Results Here
There will soon be summary of this year's event, along with plenty of photos, just check back here.
---
If you have any comments or feedback about the event, please get in touch:
CONTACT US
Find Out More...
History of Teddy Hall Relays
Beginning in Hilary 1960 the Teddy Hall Relays, previously known as the Hall Relays and the S.E.H Relays, were initially organised by St. Edmund Hall Cross Country Club. Originally a low-key affair, the first event featured 22 teams from Oxford and Cambridge colleges, with St. Catherine's College, Oxford taking the win.[1]The Teddy Hall Cross Country Club members were keen road relay runners, competing regularly in the Imperial College Hyde Park Relays and Culham Road Relay events,[2] which the Teddy Hall Relays were no doubt inspired by. We know thanks to Malcolm Warburton (OUAC Secretary 1969, Merton) that the event was well-established by the 1966-67 season, with Queens' College, Cambridge taking the win that year in a record breaking time over the 6x2 mile course.[3]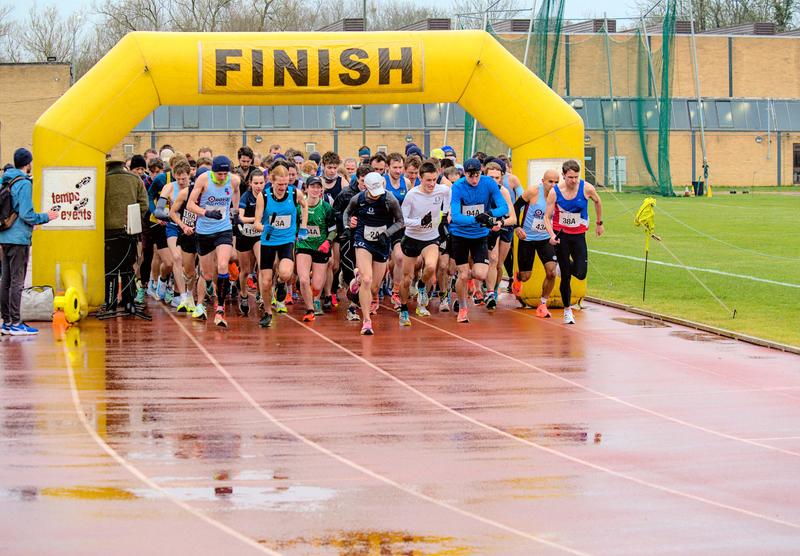 The start line of the Teddy Hall relay race in 2023
The event changed substantially in 1988 when OUCCC joined up with Teddy Hall to create a new relay race by combining Teddy Hall Relays and the final race of the OUCCC Cuppers (inter-college) League. This was achieved by Martin Borrett (St. Edmund Hall) and Collin Phillips (Worcester). The Teddy Hall Relays name was retained, and St. Edmund Hall continues to host the post-race tea in their dining hall to this day. As a result of the event becoming the final of the Cuppers League, a participation-biased scoring system and improved prizes generously donated by Morrell's Brewery (two barrels of beer to the winning team), there was a surge in the number of Oxford teams entering. 170 teams entered, including teams from universities nationwide, and the event was the feature article in Athletics Weekly.[4] The overall winner in 1988 was a team from RAF Brize Norton, and the first college team was Worcester, who fielded eight teams to secure the Cuppers title. By now the race was contested over a 4x3 mile course covering the three bridges (Donnington, Folly and Magdalen), similar to the route today.[5]
With the growth in participation, the Teddy Hall Relays was no longer suitable for its traditional start/finish point on Meadow Lane to the south of the University Sports Centre. Starting in 1989, the university allowed the race to use the famous Iffley Road track as its start/finish point. At that time the route entered the track via the OURFC ground, and it was a few years before the race settled on its current 3.35 mile route.
It was not until some years later that OUCCC entered a university team (something that traditionalists still frown upon). Prior to this, every Oxford runner competed for his or her college and it led to some memorable instances of an international athlete being teamed up with friends from the college bar, resulting in novice runners hurtling down Iffley Road in first place at the start of the second leg, with the more serious teams in hot pursuit. The mixed team category also did not appear until the 1990s.
By 1991 the Relays had become an international event with over 1000 athletes participating, including teams from Paris and Barcelona Universities. With the Relays expanding more and more, "the standard is now beyond that of any single college" (Stewart Martin, OUCCC and SEHCC Captain 1991).[6] In 2009 the event was a focal point of Sir Roger Bannister's 80th birthday celebrations and electronic timing and relay batons, in order to cope with the ever-increasing numbers, were introduced in 2012. That year also saw Oxford's own Hannah England starting the event fresh off winning a silver medal in the 1500m at the 2011 World Championships in Daegu, having come a long way from competing in Teddy Hall Relays as a teenager.
Today Teddy Hall Relays is an established part of the student running calendar, attracting entries from university teams across the country and many teams from local athletics clubs, the armed forces, and local residents. The current race is organised by Oxford University Cross Country Club, covers a 4x4.35 mile course over the three bridges, through Christ Church Meadow and starting/finishing on the Iffley Road Track, followed by a post-race tea at Teddy Hall.
Originally written by Colin Phillips (Worcester, 1986-90). Adapted and added to by Thomas Renshaw (St Peter's/St Hugh's, 2017-25)
---
[1] St Edmund Hall Magazine 1959-60, p.52.
[2] St Edmund Hall Magazine 1958-59, p.72.
[3] St Edmund Hall Magazine 1966-67, p.53.
[4] St Edmund Hall Magazine 1987-88, p.53.
[5] St Edmund Hall Magazine 1985-86, p.44.
[6] St Edmund Hall Magazine 1990-91, p.58.
2024 Race Details
Races will start and finish at the iconic Iffley Road Track, the site of Roger Bannister's famous sub-4 minute mile and the format remains unchanged from previous years, comprising a relay of 4 x 4.35 mile (7km) scenic legs around the centre of Oxford. Runners (students and non-students) of all abilities are welcome and as with previous years there are categories for Women's, Men's and Mixed teams, all of which will be contested over 4 legs, each leg to start and finish at the track.
Date: TBD (March 2024)
Location: Sir Roger Bannister Athletics Track
Registration Time: 11:30 am
Race Time: 1:30 pm
Cost: TBD
Free tea afterwards at Teddy Hall and prizes for category winners
Entries
Teddy Hall Relays will be back in 2024 so please check back here in the new year for details on how to enter!
Entries Here
Rules
All teams are of 4 legs;
The Mixed Category is awarded to teams of 2 Male and 2 Female athletes;
Teams of any composition are welcome to enter in the Men's/Open category.
Prizes will be given for the top 3 in each category. Categories include:
Male/Open Team
Female Team
Mixed Team
Oxford College Team
Department/Research Team
About the course
The course will follow the same 3 bridges (Donnington, Folly and Magdalen) route as in previous years. Taking in the Thames Tow Path, Christ Church Meadow and finishing on the Iffley Road Track.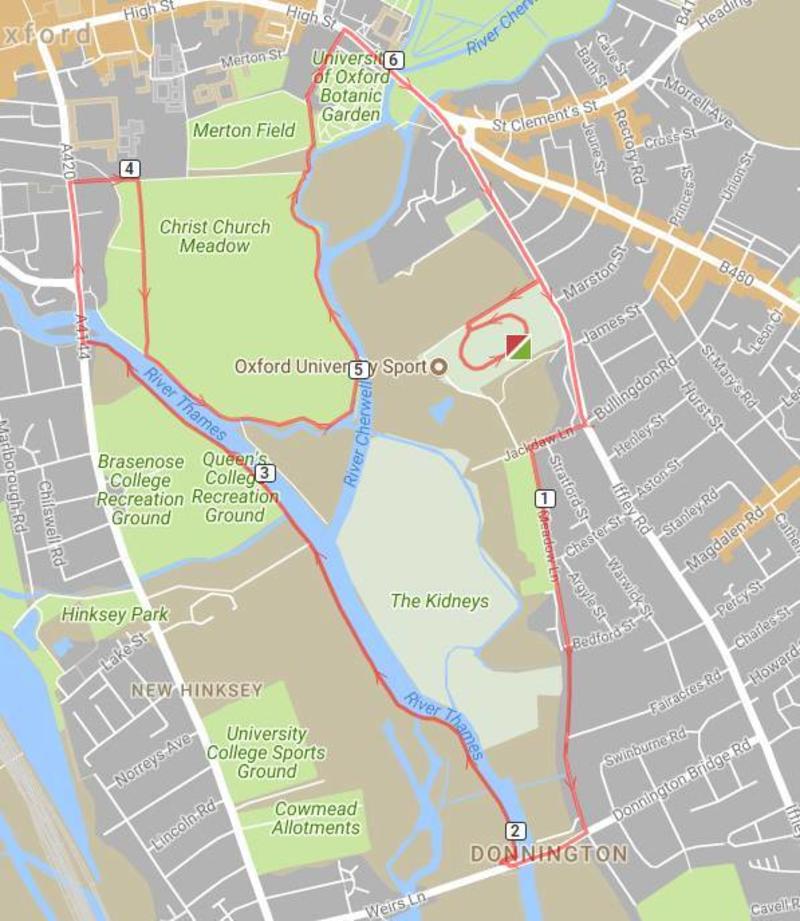 Teddy Hall Relays Course with kilometre markers